Have your dice and roll them too with our new Dice Tray with built in Dice Pod Storage!
Our latest Dice Tray looks the part and allows secure transportation of your precious dice to your next campaign!
What's included?
1x Dice Tray
1x Dice Storage Pod
1x Felt Lining or Custom Gold Engraved Faux Black Suede (Depending on your choice!)
2x "Keys" to lock your pod in for travel – One which protrudes outside the tray (pictured) for constant quick access and one that remains on the inside (not pictured), perfect for longer term storage or clumsy hands!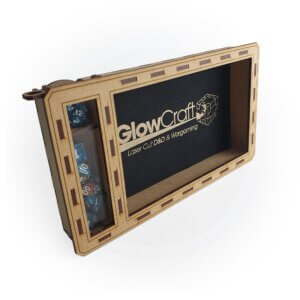 What's more, they can stand up for display when not in use, perfect to show off that one special dice set with your new custom logo!

Fully compatible with The Dice Compendium Dice Pods you can pick your set, lock it in place and off you go.
Take customisation to a new level!
A NEW option in this product is an awesome black faux suede which we can engrave a message, image or logo in for you in GOLD! A perfect gift idea for the avid tabletop game player in your life 🥰🎲 (Or perhaps, the perfect gift for you!)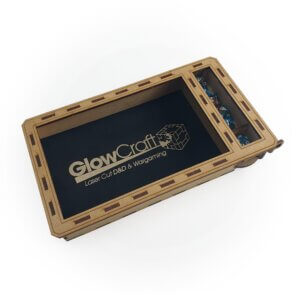 Of course, all GlowCraft products come unassembled and half the fun is putting them together!
*Dice shown in photo are not included and are illustrative only.