Introducing the Glow Craft Initiative Tracker System!
Keep track of initiative of PCs, NPCs and enemies without taking up too much space, with these wooden tokens and sliding turn indicator track, perfect for the DM on the go!
Adjustable thickness to fit on a standard cardboard Dungeon Master Screen (like the official one) or even a future wooden 3mm product as well… 😉
This Initiative Tracker System includes: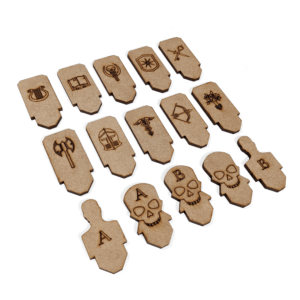 15 Double Sided Unique Tokens
For players, special NPC's and enemy groups
Sliding Initiative Turn Tracker
Allowing players and DM's to easily see who's up in combat!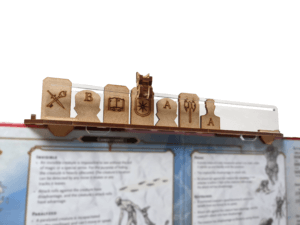 Dry Erasable Tracker Backing
Allows the DM to keep simple notes (like HP, status) behind each icon using a thin tipped whiteboard marker (not included)
Take it further!

Fully compatible with matched tokens to the GlowCraft Adventure Token System!