Dice Goblins EXPAND! Introducing The Dice Annex!
Proudly show off up to 10 Sets of dice stored in their own individual pods. Your dice sets were made to be seen, that's why I designed the Dice Compendium to show off your dice in style, featuring a spot for the D20 up front and space for the rest of the dice set in the back. The Dice Annex is a smaller version of the original design for those getting started, or looking to expand their existing display!
Of course, as with all Glow Craft products, this kit comes unassembled, with detailed visual instructions and half the fun is putting it together!
100% Compatible with The Dice Compendium!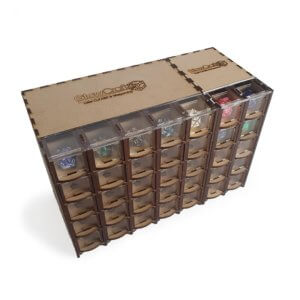 The Dice Annex alongside the Dice Compendium!